What should you expect content marketing to do for your company in 2022? We're glad you asked.
Every organization that believes in an inbound marketing strategy is keen on developing goals for their content marketing that have the SMARTS: specific, measurable, achievable, relevant, timely objectives, and to that we add, successful ones.
It's the reason why the Content Marketing Institute (CMI) and MarketingProfs have teamed up each year for the past 12 years on comprehensive B2B research that can help you figure out what high-quality content marketing can achieve for your company. The quantitative results of their online survey of global marketers are compiled in the 12th Annual B2B Content Marketing Benchmarks, Budgets, and Trends. The report offers insight into the influences, market conditions, and qualitative research that can help shape your goals for content marketing in 2022.
As respondents reviewed their marketing goals over the last year, one key theme emerged: content marketing got the call for big work, both creatively and quantifiably, as a response to the reimagining of business strategies during the pandemic. And it delivered.
According to Robert Rose, CMI's Chief Strategy Advisor, "The pandemic has awakened a sleeping giant (content marketing, that is). Our research points to transformational shifts to make content marketing an ever more important part of the integrated marketing mix."
Indeed.
Top Goals for Content Marketing
You can call them the Big Three: brand awareness, credibility, and education. These are the top three goals marketers achieved through content marketing in the last 12 months, according to the report.
80% report success in achieving brand awareness
75% say they are building credibility, which leads to enabling trust among their audiences
70% say their content marketing efforts are effective in educating people about their companies, products, and services.
As the chart below indicates (page 38 of the report), a higher percentage of the most successful marketers say they also met these seven goals:
Built loyalty with existing clients and customers (78% vs. 60%)
Nurtured subscribers/audiences/leads (64% vs. 49%)
Generated sales/revenue (57% vs. 42%)
Built credibility and trust (88% vs. 75%)
Built a subscribed audience (50% vs. 37%)
Drove attendance to one or more in-person or virtual events (60% vs. 47%)
Generated demand/leads (72% vs. 60%)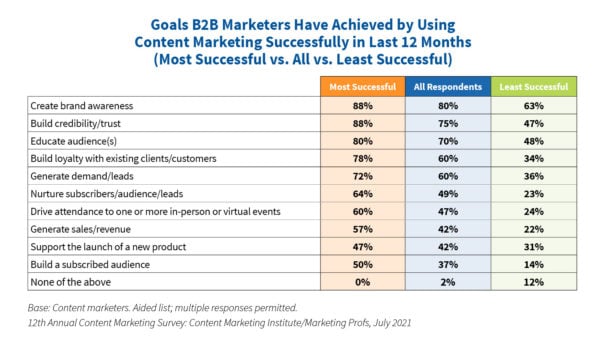 How To Address Marketing Challenges in 2022 with Content Marketing
To break out and get noticed in the now crowded digital environment, content marketers indicated by their responses that their top challenge in 2022 is "creating content that appeals to multi-level roles within the target audience." They also plan to tackle the underlying obstacle of finding subject matter experts to create the high-quality content required for success. This is a long-time concern on marketers' minds everywhere.
What types of content do content marketers plan to invest in over the next year? The survey results show four top choices (page 48 of the report).
Video – 69%
Digital, In-person, and Hybrid Events – 61%
Owned Media Assets such as websites, blogs, email lists, social presence, etc. – 57%
Paid Media – 55%
11outof11 Knows Content Marketing
If you want to develop goals for your content marketing that have the SMARTS, connect with 11outof11. Request a complimentary call with an 11outof11 expert. Contact us to learn more.