Is your content your best salesperson? It should be! Your content is your round-the-clock cheerleader, energizing your brand day after day and encouraging people to buy from you.
In fact, your content could be a huge market advantage during an economic downturn.
If you concentrate on solidifying your spot as the thought leader in your market, you'll nurture a steady stream of new business while your competition struggles or focuses on fighting fires instead.
Let's take a fresh look at the modern state of content marketing and the best ways to stimulate future sales.
Content Conquers Social Distance
In a previous blog post about generating more leads and closing more deals, we explained how content marketing woos people with helpful information. Buyers - especially B2B buyers - rely on content to make buying decisions, typically consuming 3 to 5 pieces of content before making a purchase.
Well, here's a brand new piece of wisdom for 2020 and beyond: content has become more important than ever before. In a socially-distant world shaken up by health and economic threats, your online content has gained critical significance.
For the first time in 100 years, U.S. shoppers have been required to stay home for their entire customer journey, from awareness to purchasing to advocacy. Buyer behavior has likely been reshaped forever.
Today, your audience expects you to be able to interact with them 100% virtually. No excuses!
Good news: Content does the job for you. Even when your CEO's attention is elsewhere and your salespeople are getting overwhelmed, content continues to connect with your target audience and nurture new leads.
Selling Should be Show-and-Tell-ing
New research shows that social distancing is causing people to crave content, with 67% of buyers saying they will rely on content more this year than last year. During and after a period of isolation, people are hungry for updates.
Overwhelmingly, today's consumers want "show and tell" content, meaning formats that are:
Visual
Engaging
Experiential (provides an experience)
Educational rather than "salesy"
Buyers are showing a preference for content that is digestible in small bites, yet still leaves them feeling smart and satisfied. You could even say content is the new chopped salad - easy to consume, healthy, filling, and satisfying.
Use Content to Fuel your Future
One of content's superpowers is lead generation. Use this power correctly, and you'll develop a massive database of future prospects. After all, today's content readers are tomorrow's buyers.
By offering helpful information that your audience needs right now, your content initiates the lead-nurturing process and builds a stronger relationship with your readers. So take full advantage of this opportunity.
Don't forget to:
Capture email addresses and other contact info.
Turn attractive content into gated content as appropriate.
Stay connected with your audience on multiple channels, like social media and email.
Keep people engaged over the long term with a mix of content including whitepapers, ebooks, infographics, and more.
Content is Money Well Spent
Concerned about your company's finances in a tough economy? Here's one last, very reassuring fact about content marketing:
Content marketing costs 62% less than traditional marketing methods while delivering 3 times the lead generation.
As we enter a tight global marketplace, it's important to get the most out of your money. Content is a cost-effective option that lives forever on your website. Every penny invested in content marketing is well-spent on nurturing leads and turning them into future sales.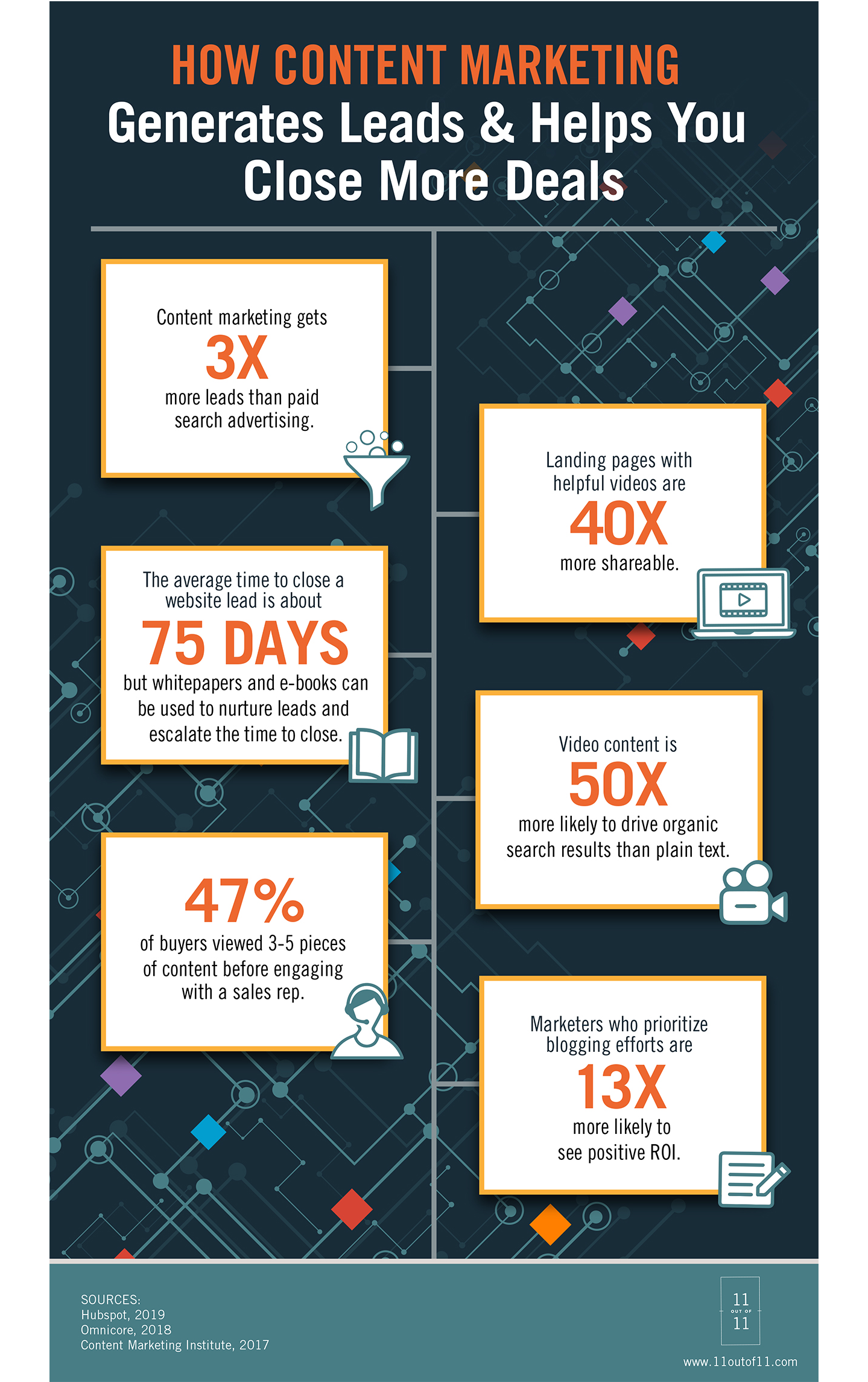 Ready? Let's create content together.
If your content needs a boost, we're here to help. 11outof11 is your savvy content marketing partner, so contact us for innovative content that stays relevant in an ever-changing marketplace.