You need leads. You need revenue. And you need to close more deals every day, every week, every month, and every year.
A great content marketing plan works like a smart, cheerful, charismatic overachiever on your sales team. And it can reliably attract customers day after day, creating a steady stream of business for your company.
But there's some magic behind making this happen. So let's take a closer look at how content marketing helps you generate more leads and turn them into profitable closed deals for your business.
Content Sells Without Being Salesy
Content marketing is part of the inbound marketing methodology, which uses tempting information to draw people into your business, rather than the old-fashioned method of trying to push people around with ads and straightforward sales pitches. Simply put, it woos them.
That's why its messages are so much more welcome in your customers' lives, whether you're a B2C or B2B company. More than half of B2B buyers rely on content during the research stage and about 41% to 47% consume 3 to 5 pieces of content before buying.
But here's something else important to note: 73% of buyers also say they have less time than ever before to read any type of content. So if you're providing something, it had better be good and worth their time.
It Shortens Your Sales Cycle
The average sales cycle is about 3.5 months. What if you could find a way to shorten your sales cycle and close more deals, more often?
Content marketing makes it happen. The average time to close a website lead is about 75 days, which is closer to 2.5 months. On top of that, content marketing can shorten the cycle even further.
Rich content like ebooks and whitepapers can be used to engage more deeply with prospects and initiate purchases much more quickly. Your customers read your content, find information that resolves their concerns, and move forward with buying.
Plus, they're grateful for your company's help. A LinkedIn study found that B2B buyers are 5 times more likely to engage with a sales professional who provides fresh insights about their business or industry - and this process leaves an impression that's 85 times better than cold calling. Wow!
It Flows Naturally With Videos and Social Media
Content marketing is also a strategy that suits the style of today's buyers. Every day, they interact with thousands of images, videos, links, messages, opinions, and so much more. Content marketing makes you part of this multimedia message, which is exactly why it generates more leads.
In fact, if you integrate a video into your landing page for the content, you've just made it 40 times more shareable. Video content is also 50 times more likely to drive organic traffic than paid ads.
Great content dovetails naturally with social media, giving you something to talk about with potential customers on a regular basis. Social media now captures about 33% of all time people spend online, so it's the perfect spot to engage with your audience.
It Delivers ROI
In case you're wondering whether content marketing really drives a solid return on investment, let us put you at ease with a few more facts: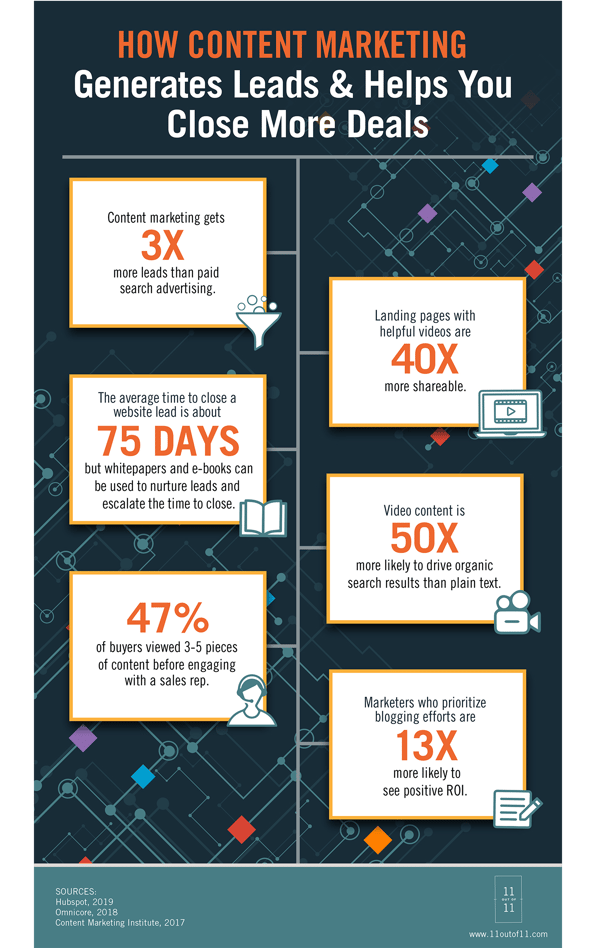 Ready to use content marketing to generate more leads and close more deals? We're here to help. Contact 11outof11.com for innovative and affordable content marketing options.